High Speed Time-bin Coding Quantum Key Distribution Terminal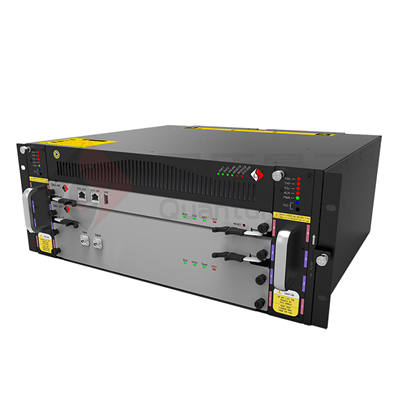 QKD-PHA300 series are quantum communication products launched by QuantumCTek for QKD in the complex channel environment. The product is the world's first commercial time bin QKD, with multiple patent technologies and a world leading level quantum communication technology. The system is based on BB84 protocol with decoy-state, and employs time-bin coding. The operating frequency of quantum signal transmit or receive module is up to GHz level and can realize long-distance quantum key distribution or high speed quantum key distribution under close distance and small attenuation in special channel environment ( electric aerial optical cable, aerial optical cable bridge, rail buried optical cable, etc.)
QKD-PHA300 series are engine room equipment, mainly used in complex quantum channel environment for secret communication needs. Through model matching use, building security of quantum key distribution network, supplying eavesdropping quantum key cannot be decoded, which has wide application prospect in the military, national security, finance, government, energy and cloud computing, etc.
QKD-PHA300 series products include two types: Signal transmit type (type A) and Signal receive type (type B).
QKD protocol: BB84 protocol with decoy-state method and time-bin coding
High key rate: the speed of quantum key distribution leading among peers
Long-distance key distribution: support quantum key distribution under a distance longer than 100 km
Hardware implementation: All hardware curing protocol algorithm, realization of high-speed key extraction process
Quantum safe: Against attacks such as photon beam separation attack, light blinding attack, double counting attack and facility calibration attack
High reliability platform: Redundant design with dual power supply, dual fans and so on
Easy maintained facility: Blade structure; Device-level log management; High using experience system software
Convenient expandability: System compatible with third party and provide diverse configuration
Adapt to special environment: Key distribution can be used in special environment, against channel polarization perturbations
Strict key randomness: Conform to the specification of the State Cryptography Administration
High speed time-bin coding quantum key generation terminal can be typically but not limited to applied to distribute quantum key in the suspended cable channel environment. (Such as electric aerial optical cable, aerial optical cable bridge, and rail buried optical cable). Including applicable areas: In the military, national security, finance, government, energy, cloud computing, etc.
QKD-PHA300 series products include two types: Signal transmit type (type A) and Signal receive type (type B)